We have some fabulous Lampwork Artists here in the UK and I've probably only just skimmed the surface of them, even though my favourites list of lampworkers is huge.
Today I thought I'd share some photos of my latest lampwork purchases with you. Please follow my links to see what other wonderful creations these talented people have to offer.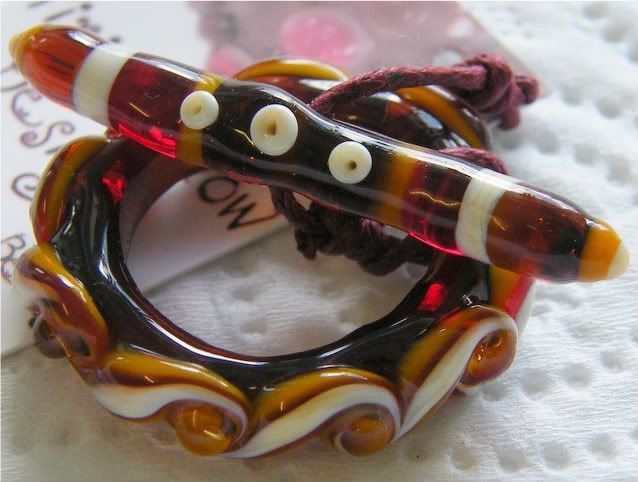 This was my first purchase and first experience of buying on Etsy.                                                                                                                                      This amazing lampwork toggle fastener is called Amber Waves and was created in the studio of  Pixie Willow Designs.
My next purchase highlights how useful it is to follow the blogs of artists whose work you admire. I was trying to think how to make a lizard jewellery piece as an 82nd birthday present for my mother when I stopped by at Saffie's Blog and saw the perfect 'body' bead.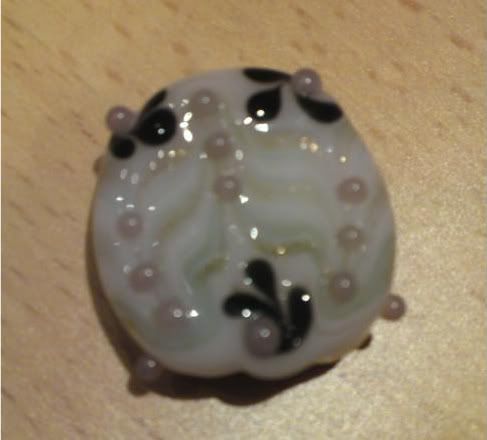 This bead wasn't actually going to be sold as it was a new design try out. Being cheeky I sent an e-mail asking if I could buy it anyway, as it being imperfect made it ideal for my use.
                                          You can see the perfected design and other gorgeous beads by this Lampwork Artist at Aurorabeadz.
These were just the start of my recent bead stash, in fact I over-indulged again today when I couldn't resist the goodies I discovered by following a forum signature. So you can expect some more posts about my new treasures soon.